eJournals
From 2017 on we provide straightforward access to four electronic journals via the Meiner eLibrary. Subscription to the following journals already includes this online access.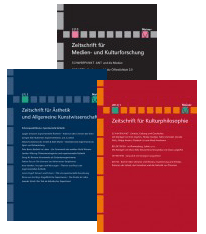 If you have already subscribed to one or more of these journals (e.g. directly on the details page of the respective journal, see below), you can use the following link for an activation of your access:
---
Access for private customers
To activate, you need your order number! This can be found on your invoice at » this point.
» Activation for private subscribers
Within 2 to 3 working days after registering, you will receive information on your activation, your user name and password. Afterwards, you will be able to access the contents of the e-journals directly on the respective journal page at meiner.de.
---
Access for libraries and institutions
Libraries and institutions recently got access to the contents of our eJournals and eBooks via a new eLibrary platform. Please request your access to the activation directly on the new platform:
» Activation for libraries an institutions
Further information about the eLibrary for libraries and institutions and our eJournals can be found on the page: www.meiner-elibrary.de.
---
Newsletter
If you would like to be informed as soon as a new issue or eJournal has been published and you are also interested in references to new publications on the topic of the journal, please subscribe here to our newsletter: » meiner.de/newsletter
---
Legal Notice
Here you can find our » general terms and conditions, the » general licensing condition for digital content and the » privacy policy.
---
For further questions
If you have any questions, please send an e-mail to ejournal@meiner.de. For inquiries in this matter, you can also call us from Monday to Friday in the time from 09:00 a.m. to 5:00 p.m. under +49 (40) 298756-0.